Channel Your Inner Artist!
by Shannon
(Roseville, MN)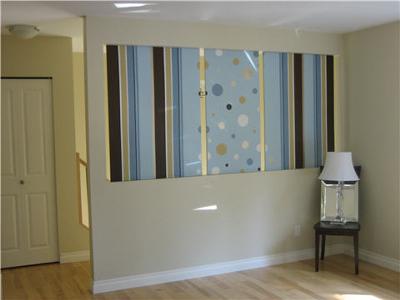 The finished product!
Home Decorators Collection . . .

Living in a "Plain Jane" apartment complex, where I was not allowed to paint the walls, got old really fast!

However, being on a poor college student's budget didn't allow me much wiggle room when it came to creative ideas for decorating.

One day, while at a garage sale, I came across some old canvases for sale. Inspired, I picked up a basic set of oil paints on my way home and decided that if Picasso could do it, so could I!

I browsed the internet for design ideas until I finally stumbled across one with clean lines and circles that appealed to my abstract eye. After printing out my "inspiration", I used a paper plate to mix up some colors and began to paint!

It didn't take me long to run out of my base colors (brown and blue) but even a quick trip back to the craft store didn't slow me down. Three hours later, my masterpiece was done!

Now when friends and family come and visit, they don't notice my boring white walls. Instead they ask me where I got my fabulous piece of art!

Join in and write your own page! It's easy to do. How? Simply click here to return to Home Decorators Collection.