Metal Wall Decor -
It's Great Stuff!
I'll Bet You Have Just the Right Spot
For a Unique, Custom Cutout!
Your metal wall decor is as creative as you would like it. You can be the commissioner of your unique Metal Wall Art!
Metal . . . Do I sense your hesitation?
Just come up with the idea, and Wet Jet Precision, Inc. will help you take it from there.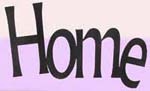 You say, "I'm not artistic, it'll probably cost me a fortune!"
Relax, I'll make this an easy decision for you.


Maybe you have a Company Logo that you want to incorporate into a plaque, or maybe a sign. If so, let us give you a hand!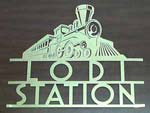 Keep in mind that, depending on the Custom Metal Sign type, or custom metal wall decor. I have to connect all of the letters. . . or if you want the negative cut out, I'll have to make sure we don't drop the center of any of the letters. An "e" just isn't the same without it's center.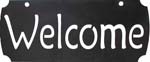 Think about the font you want. I didn't mean to make that rhyme, and I wasn't even trying to be creative.
Let us help you. I know we can do it together. Just let those creative juices flooooow.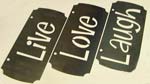 Wet Jet Precision's Abrasive Water Jet Cutting machine will help make it happen. Look around, and spruce up your home. Check out our Home Decorators Collection. You might see a nifty idea that will accent your metal wall decor.

No matter if you are an Architect, Engineer, Interior Designer, Landscaper, or you fill in the blank, everyone is looking for quality in design elements for a great price!
Whether Western Home Decor, Southwest Decor, Country Home Decor, Lawn and Garden Decor, or maybe a decor theme for a specific room, such as Elk Pictures or Moose Pictures for a Wildlife or Hunting Theme, or something like Palmtree Decor, Butterfly Decor, Rooster Kitchen Decor, Horse Decor, Golf Decor or even Coffee Decor. The list is endless.
With our Abrasive Water Jet Cutting Services, the mind is the only limitation for creating distinctive amd unique architectural, interior, or exterior designs.
Truly, one must think outside of the box when considering the many different material types and thicknesses that can be economically cut.
No longer are complex design schemes cost prohibitive. With our Abrasive Water Jet Metal Cutting Solution, projects can be setup and cut with extraordinary speed when compared with other technologies. These cuts are clean and accurate, and do not require secondary processes.
Metal Wall Decor is now just a phone call away. Besides that, to think is to create, and it's a ton of fun. Customized gates, addresses, and other exterior home metal wall décor can offer a unique "one of a kind" decor solution.
Click here for other unique Decorative Home Accents sculpted from iron, as well as other iron enhanced decor.

For ongoing information on Water Jet Cutting and home decor tips, Subscribe to our Newsletter, "A Cut Above the Rest!" Click Here! to Subscribe, top left. To discuss your quote specifications for . . .

Abrasive Waterjet Cutting, Contact Us!

Or call toll free: (888)707-5077


Water Jet Cutting Home

for Abrasive Waterjet Cutting . . . Contact Us

return from Metal Wall Decor . . . to Cheap Home Decor