Cheap Home Decor . . . Patio Bar
by Connie
(NC, USA)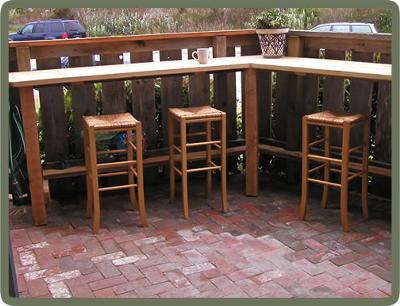 Inexpensive Patio Bar
I purchased a house late this summer with a great double deck leading up to my pool.

I realized quickly that even though the deck is large enough to accommodate two patio tables, with my big extended family, seating was going to be a problem.

In addition, the sound is directly across the street from my home and from the one end of the deck I have a beautiful water view.

I came up with this very inexpensive idea for additional seating on my deck. It is so simple. We are just adding a self (bar) just under the rail and adding some inexpensive stools.

Voila'... instant extra seating that doesn't take any of my deck space away. Bonus to me, I can sit and drink my coffee in the morning and look right out over the water.
Click here to read or post comments
Join in and write your own page! It's easy to do. How? Simply click here to return to Home Decorators Collection.