Customer Loyalty Programs . . . Featuring the Roof Ripper!
by Terry
(New Hampshire)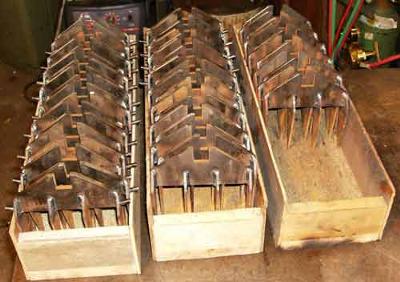 In production . . . cut with waterjet!
Our customer loyalty program spotlights the "Roof Ripper".

These roof shingle removal tools perform long strokes on rough decks. You rarely need to touch a shingle with your hand.

The "Razor Bar" dodges obstacles and rides on irregular surfaces to glide under the roof shingles and wedge them free. It also grabs and throws the roof shingles, making the tool handy for delivering the debris to the ground.

The five horsepower "Air Ripper" addresses the toughest roof shingle tear-off conditions. Multiple layers of shingles, caps, roll systems, and/or shakes are a breeze. These tougher jobs require lots of slamming. The pneumatic Air Ripper does this slamming for you two thousand times every minute without fatigue or frustration. Relieved of this slamming, it is easy to aim the tool and control the cut.

The hand version of the roofing tool is light, fast, and deadly. The Air powered version tackles the toughest roof shingle tear off jobs.

If you're the one doing these tough jobs, there is no better tool to have in your hands.

Making work go smoother through better equipment is an ongoing quest of roof-shingle-removal-tool.com.


Join in and write your own page! It's easy to do. How? Simply click here to return to Customer Business Spotlight.