Customer Loyalty Programs presents . . . Kingdom Clocks
by Will Cooke
(Utah)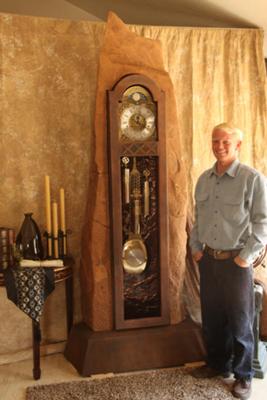 Majestic Rubble by Kingdom Clocks
One of our Customer Loyalty Programs spotlights a product Wet Jet Precision helped to create. Enjoy!

Unique one-of-a-kind Grandfather Clock.

Talk about the real thing, made from one solid rock with the finest movement you will find.

A natural pebble from sixty miles north of the Grand Canyon. The stone is sandstone, and has natural tight fractures carved by wind and rain creating it's "Majestic" form.

The inside of this is finished with Tarnished Copper Plated Metal.

The "Majestic Rubble" comes with a Hermle 8-day cable-driven triple chime Grandfather movement. This "Flagship" unit features the very best value in mechanical movements.


Solid brass, extra-thick plated for superior wear resistance.
Automatic beat adjustment.


Chime silencer and automatic nigh shut-off.


Plays Westminster, Whittington, or St. Michaels melodies progressively on the quarter hour, and full melody on the hour.


Strikes out the hours.


Deluxe dial, pendulum, and weight shell set.


Full weight droop is 63 inches.


2 year guarantee on the movement
A Generational Masterpiece!
Do you want fancy and class? Do you want quality time with a chime? You choose! Pick a rock and we will do the rest.
Each Kingdom Clock is made with precision and care. You can enjoy it for years to come.
Go to
www.kingdomclocks.com
to commission your work of art, your
Generational Masterpiece
.