DECORATING HOUSE IS THE PASSION FOR ALL
by Tushar
(Cochin, Kerala, India)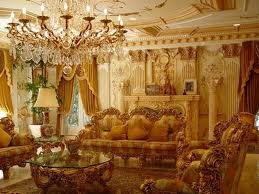 Living Room
Home Decorators Collection . . .

The golden shade spreads the mood throughout the day. During the sunrise, afternoon, and during the sunset, the room mood will be the glowy, shining, golden shade, with enough space for all accessories.

During the night,there should be enough light available, as well as a room temperature that can be maintained for a comfortable life. During the winter the fireplace behind the main sofa will help.

A green touch in the dining room will create a good atmosphere. If a small tree plant is kept in the middle of the dining table, it will give an elegant look.

Open space and good air circulation where things are not congested will always give a good look and feel to the room.

Washrooms should be spacious, and the light also should be matching to the theme and the color of the interior. The wall color should be matched to the age of the people, and the mood.

The color of the sofa, the table, the chairs, and even the minute accessories should be color matched with the interior.

The closet and the table size should also be taken into consideration depending on the needs.

The floor tile color also needs to be considered with the colors of the furniture.

The perfect placing of all the accessories will be the determining factor for keeping the house trendy.