Go Green Decorating Ideas
by Sophia Torres
(Las Vegas, NV, USA)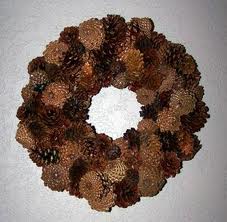 Wreath
Home Decorators Collection . . .

The following ideas produce beautiful, high quality home decorations using items found in nature. The best part is that for the most part these projects allow us to use what most people might consider garbage and turn it into some thing beautiful.

=Project One=
Wreath: you will need a wire hanger and about 30 pine cones, found outside your home, in the forest, if you have kids play a game of whoever finds the most pine cones wins. I suggest you have about 15 large pine cones and the other 15 can vary in size. You will also need ribbon, preferably wire edged and a hot glue gun.

Step 1: shape the hanger into a wreath
Step 2: using hot glue place the large pine cones
Step 3: using hot glue place the other sized pine cones along the wreath to fill gaps, feel free to use more than the suggested amount
Step 4: shape a bow and hot glue to the wreath

Idea variation: use the bow to determine the holiday or season of your wreath and then add other things from nature to accent your wreath. For example, for the fall season I added green pears and miniature pumpkins then for the holiday season I added red berries.

=Project Two=
Swag: you will need about a dozen twigs from a tree, the length will be based on where you plan on hanging the swag, for example, if you hang over a standard door threshold you can aim for about 14-16 inch twigs, you will also need a piece of fabric that can be used like a scarf and floral wire. I suggest you get creative with your fabric and try different types like tulle or a floral print.

Step 1: lay out your twigs on a flat surface
Step 2: in the center of the twigs, use the florist wire to secure all the twigs together
Step 3: take your fabric and tie a knot so that the fabric covers the wire and continue to tie and wrap the fabric in a creative fashion

Idea variation: paint all of your twigs with a white washing of paint or any other color that will complement your homes decor. My favorite variation of the swag is to add a string of white Christmas lights and place the swag on my mantle.
Join in and write your own page! It's easy to do. How? Simply click here to return to Home Decorators Collection.