Industrial Metal Finishing . . .
What Are Some of My Options?
Wet Jet Precision, Inc. . . .
Your Informational Goldmine!
How important is industrial metal finishing? What are the best finishes for my project? Should I anodize, powder coat, or paint?
Your industrial finishing options typically fall into three categories . . .
Anodizing

Powder Coating

Precision Liquid Coating
There are other industrial metal finishing options available such as chrome, zinc, and glavanized plating, or even precious metals such as gold and silver plating, etc., but these three are the most universally applied.
Let's talk about Anodizing first. What is Anodizing?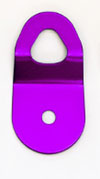 Anodizing successfully combines science with nature to create one of the world's best metal finishes. It was developed over 50 years ago.
Anodizing is an electrochemical process that forms a protective coating of aluminum oxide on the surface of the aluminum. Raw aluminum left exposed will corrode and oxidize, creating weakness and becoming unsightly. Anodizing protects the raw aluminum, transforming it into a hard and durable, weather-resistant substance.
Anodized coatings can be colored by dyeing - and because anodizing is a chemical bond to the metal, these colored coatings cannot flake or peel. The microscopic structure of an anodized coating consists of many small hexagonal pores. These are filled with a sealer that hydrolyzes the pores to create a smooth, durable surface.
Cleaning . . .

Typically parts are cleaned or degreased using ultrasonic vapor, acid wash, and/or alkaline cleaning.

Pre-Treatments . . .

After the part is cleaned, it is pre-treated to achieve the desired degree of reflectivity.

Bright dip is a very reflective, high gloss finish.

Satin, which is the most common finish, is a low lustre finish.

And matte, is a flat finish.

Treatment . . .

This is the anodizing step using standard sulfuric anodizing, or hardcoat anodizing for maximum durability. Hardcoat is up to eight times thicker, and ten times more durable than standard anodizing.

Finish . . .

The last step is the finish. It is attained through application of color dye and sealants.
I'll bet you want to know the advantages of anodizing!
Durability . . .

Anodizing results in a complete bonding of the finish coating and the aluminum - so the finish cannot peel off because it is actually part of the metal. An anodized finish is chemically stable and heat resistant to the melting point of aluminum, which occurs around 1,221 degrees F.

Cost . . .

Due to their extremely long life span, most anodized parts offer significant economic advantages.

Color Stability and Selection . . .

Anodizing gives aluminum a deep, rich metallic sheen. The anodized coating is translucent, which is why the aluminum retains its metallic appearance after it is anodized. Exterior anodized color coatings do not chip or peel and are resistant to ultraviolet rays.



Ok, what is the skinny on Powder Coating?

Powder Coating is a great industrial metal finishing process. It is a unique metal finish where dry powder is applied to a product using static electricity. Then, the part is oven cured, which causes the powder to melt and create a uniform film.

This industrial metal finishing process of powder coating is relatively new, developed around 40 years ago.

Cleaning . . .

The part must be properly cleaned. Media blasting, ultrasonic vapor degreasing, acid wash, and alkaline cleaning are typically used.

Chemical Pre-Treatments . . .

After cleaning, the part is pre-treated to best prepare the metal for a long-lasting finish. Both Chemical conversion coating and iron phosphating can be used in this pre-treatment process.

Primer . . .

Typically a zinc rich epoxy primer is applied to the part to enhance the look and durability of the top coat.

Top Coat . . .

The next step of the powder coating process is to apply the powder. Powder comes in many grades and colors.

Curing . . .

The final step is the curing process where the part is oven baked, creating a uniform film.

Tell me about the advantages of powder coating.

Durability . . .

Some architectural jobs require a monumental grade industrial metal finish. A thorough pre-treatment process, combined with a high quality powder should last 20 years without any sign of degradation. This is unmatched in the field of metal finishing.

Cost . . .

Due to their extremely long life span, most powder coated products offer significant economic advantages. Be sure to choose a good shop. You will avoid alot of expensive maintenance costs caused by a faulty finish.

Color Selection . . .

With powder coating, you have thousands of colors, textures, and many powder grades to choose from.

Substrates . . .

Unlike many metal finishing processes, powder coating can be applied to a variety of metal alloys.

Environmentally Friendly . . .

By applying dry resin in the form of powder to your part, you bypass the release of dangerous liquid chemicals into the atmosphere.




Last, but not necessarily least . . .
What about Precision Liquid Coating?

Industrial metal finishing makes use of a lot of paint.

The fancy word is Precision Liquid Coating. I guess you really do need to call it by its fancy name . . . otherwise you may think it's not important to pre-treat before painting, and put a commercial grade polyurethane coating on after the paint.

The advantages of precision liquid coatings . . .

The part can be masked if needed.

For ongoing tips and information on Water Jet Cutting and related processes, Subscribe to our Newsletter, "A Cut Above the Rest!" Click Here! to Subscribe, top left.

To discuss your quote specifications for . . .

Abrasive Waterjet Cutting, Contact Us!

Or call toll free: (888)707-5077



Water Jet Cutting Home

for Abrasive Waterjet Cutting . . . Contact Us

return from Industrial Metal Finishing . . . to Metal Fabrication Tools