My Dream Home
by Sajin K Das
(Trivandrum, Kerala, India)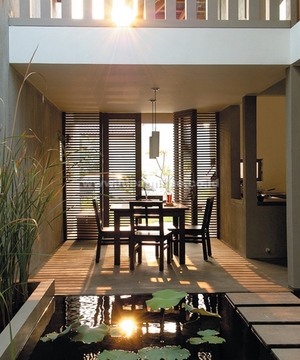 Pond beside the dining
Home Decorators Collection . . .

Home decoration plays an important role in our lives. Afterall, this is the place where we would like to spend most of our time in our life span. So it is very crucial that we should keep an eye on it. Moreover, the appearance of our home plays a very important role in our personality as well as our social status.

Color combination and furniture placement plays a vital role. Use sensible and contrasting colors, which will bring the primary attraction factor. Curtain colors should complement the wall colors. Using checkered pattern curtains can add variety. Wooden finished walls are more attractive than normal painted ones.

The spatial arrangement of furniture is very important. Place it in the appropriate space to create a comfortable area. Don't crowd the space. Also be careful in selecting the pattern and color of sofa, settee, chair, table, and other miscellaneous furnishings. This should suite the theme and color of the room where it is being placed.

Flooring materials should be light in color, either off white or cream, which creates a royal appearance. It also helps for keeping proper lighting inside the room. Small, designed tile or marble is better than plain patterns.

While designing each room, select a theme before selecting colors and arrangements. Some themes to consider would be a romantic, creative, artistic, traditional, or funny theme, etc.

When designing the dining room, it should be spacious. Do not limit lighting and air circulation.

In addition to all these considerations, a balcony or a small seating area outside every room would be good.

A small pond or pool inside the house would add greatly to its attractiveness.