Sign Manufacturing -
Consider Your Options!
Sign Manufacturing . . . What are some of the available options and considerations! What is the best sign for my business? What is a signage system?


Signage systems are visually driven information and fact systems, containing signs, maps, symbols, color coding systems, pictures, logos, and other sundry elements. Signage systems are different from alternative solutions to information display, as they are typically used to direct people's passage through the bricks-and-mortar world we live in.
The act of following a signage system is called wayfinding, signposting, or waysigning. Examples would be the road signs along the highway, or the signage system that helps you find your way in a large mall or airport.
Any collection of related signs are considered to be a signage system.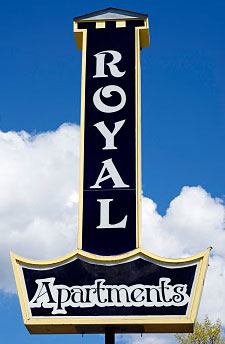 In a world of multilingual and multicultural travel, signs become more and more based on images rather than words. This is also the case in societies where there is a low literacy rate.
Signage systems are used in both indoor as well as outdoor advertising. Just for outdoor advertising, there are more than 100 different advertising formats. The total outdoor advertising in 2008 for the United States alone was nearly $7 billion in annual revenues. We are talking about a very very large industry. How can I possibly discuss all formats? I can't.
Some of the more common formats are listed below. These are sign manufacturing formats that are common for interior, exterior, commercial, private, signage systems, as well as one-offs, or customized signs. Some are obviously only for exterior applications.
Digital LED, LCD, or Plasma Signs . . . A digital sign comes in many formats. They are typically an information sign that can be updated on a regular basis. They are generally stand alone applications that are controlled and updated with computer software. Network applications are available. This type of sign is not involved with the sign manufacturing process unless it is a component of a larger system.

LED's are sometimes designed into the various types of lighted signage.

Channel Lettering . . . Aluminum is the most common material used for sign manufacturing of channel letters since it won't rust. This aluminum channel is the basis for the shape of the letter. The sides of the channel letter are also typically made of aluminum creating a container the shape of the letter. The letter container is normally painted and fitted for any lighting components. LED s, or neon gas tubes are usually the lighting source when lighted. A trim capped border is attached to a translucent plastic face that has been cut to the same shape as the letter. This border gives the letter face a nice finished look as well as a means of fastening the face to the letter shaped container.
Built Up and Flat Lettering . . . Manufacturing signs using built up or flat lettering is usually a less expensive option. A built up letter typically is hollow inside similar to channel lettering. It is manufactured using a fabricated technique that simulates a very thick letter, and is constructed all out of the same material. This gives it a solid, non hollow look. If it is made from stainless steel, it will look like a solid stainless steel letter. Flat letters can be manufactured in many different ways, and out of many different materials.

Probably the most common and cost effective method is to waterjet cut the letters out of the desired material. Some materials will need to be powder coated or painted, where other materials such as brushed stainless, aluminum, or brass, or many of the different types of plastics will not need a secondary process. Because of the material expense to cut thick letters with a waterjet, a thin sheet of marine grade brushed metal is often glued to a polyurethane backing, and then waterjet cut.

Injection molded letters are also available, but typically reduce your font options.

Neon Signs . . . Sign Manufacturing of neon lights, if processed properly, win the "long life" award for lighted signs. They can be expected to last many years, if not many decades. A great neon sign maker changes in time from a good craftsman to a great artist. Making the glass tubing requires so much custom labor, that they would not be cost effective if they didn't last for a very long time. The single biggest reason for their longevity is the fact that they do not have a wire filament as does fluorescent tubes.

The gas, neon, glows bright red or reddish orange when lit. In order to get a wide range of additional colors, the gas, argon, is combined with a drop of mercury. The droplet of mercury vaporizes. This mercury vapor emits an ultraviolet light that creates the various color options depending on which ultraviolet sensitive phosphors have been coated on the inside of the tube. Helium is sometimes added to the argon gas for installations in cold locations.

The continuous bent tubing will not look like individual letters if it is totally lighted unless the eye is tricked. Blockout paint is used to paint the areas of the tube that must not glow. The eye doesn't see the blockout paint when the neon light is lit. To the untrained eye, it looks like separate tubes.

Interior and Exterior Wall Signs . . . Sign manufacturing involving wall signs are very "material-type" dependent. Will the sign be made of paper, plastic, wood, glass, stone, or metal? The sign manufacturing process depends upon the material type being used. Will the sign be screen printed, etched, sandblasted, engraved, or cut out? Will the letters of the sign be the positive image or the negative image? Will they be individually built-up letters? Will they be channel letters?
Billboards . . . A billboard is a large outdoor advertising structure typically located in very high traffic areas. They are designed to present your advertising to drivers more so than the general public. The message is large and many times witty or humorous. Most often, an advertiser will not construct these signs, but rather lease them.
Vehicle Wraps and Truck Lettering . . . Wrap advertising is the sign manufacturing practice of completely or partially wrapping a vehicle in an advertisement, in effect creating a mobile billboard. In days gone by, the vehicle was painted, but in today's world we use vinyl lettering and/or large vinyl sheets. Vinyl instead of paint makes it a lot easier and less expensive to change or remove. Obviously, large flat surfaces are much easier to wrap than small curved surfaces. Complete vehicle wraps require a lot of skill and experience. Partial wraps are not nearly as difficult.
Banners . . . A banner sign is a flag or cloth bearing a symbol, logo, slogan, or message. They are typically fabricated for commercial use on a vinyl or plastic. In recent years they have grown in size due to the increased availability and technology of ultra-wide format printing. A banner is typically seen as a temporary sign.
Murals . . . Murals are similar to vehicle wraps. The use of ultra-wide format printers have taken hand-painted murals of the last decade and brought them into the digital age. Hand-painted signage is a fading art in the commercial signage arena.
Signage in one form or another is centuries old. However, modern sign manufacturing incorporates many technologies and processes unavailable a hundred years ago.

By the way, take a moment to Subscribe to our Newsletter, "A Cut Above the Rest!" for additional tips and design ideas, and overall great information. Click Here! to Subscribe, top left.




To discuss your quote specifications for . . .

Abrasive Waterjet Cutting, Contact Us!

Or call toll free: (888)707-5077
Water Jet Cutting Home

for Abrasive Waterjet Cutting . . . Contact Us

return from Sign Manufacturing . . . to Custom Sign Manufacturing