Wall-to-Wall Curtains
by Tiffany
(New York, NY)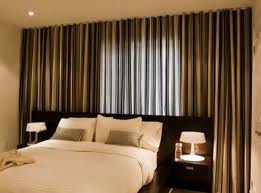 Wall-To-Wall Curtains Done Right!
Home Decorators Collection . . .

Wall-to-wall curtains are a great way to avoid the messy and time consuming process of painting, and they add drama to a focal wall. It's also a good way to get around architectural limits by creating the illusion of a brand new wall.

For my sister's bedroom, I'm using a luxurious silver-gray wall-to wall curtain as the focal wall in a 10 x 14 ft space. A queen-sized bed with a black faux leather upholstered head/foot board will be centered in front of the curtain.

The large bed will be flanked by two light gray nightstands, and two white mini globes will hang from the ceiling to the left and right of the bed.

The color scheme for this project is yellows, whites, grays and black. The walls will feature cubby-like shelving in yellow with white stencil work on them, and a feature rug will rest in front of the foot board, partly obscured by the bed itself.

Wall-to-wall curtains are what propelled this design, and it is currently a work in progress. If you're like my sister, and you are skeptical about how wall-to-wall curtains will look, check out this picture that I found online that shows just how amazing such a "design trick" looks.

The picture is not my work, it is just an example of what wall-to-wall curtains look like.
Join in and write your own page! It's easy to do. How? Simply click here to return to Home Decorators Collection.